Research Challenges in Cystic Fibrosis
Research Challenges
Research in cystic fibrosis has made significant advances over the last 32 years since involvement of the CFTR gene was discovered. However, the research landscape is challenging, with current focus on the genetic cause of disease, and secondary complications, including:
nonsense and rare mutations
understanding and improving CFTR function and modulators
complications related to infections, inflammation, mucus, loss of pancreatic function and gastrointestinal manifestations
optimizing therapy regimes
AI for cystic fibrosis
The Boomer Esiason Foundation and Epistemic AI have formed a partnership to help accelerate research in cystic fibrosis through the use of Epistemic AI's unique Knowledge Discovery Platform. The goal is to provide researchers with the tools necessary to augment and more rapidly advance their research. This is achieved through the platform via:
easy access to publications and clinical trials
connections to a multitude of databases
insights that lead to hidden connections
Using an array of novel AI techniques including machine learning and NLP, our approach to knowledge discovery is vastly different from the outdated methods of keyword or semantic search, which continue to frustrate scientists.
Starting from a single entity, such as CFTR, Pseudomonas aeruginosa, F508del, or Trikafta, a few clicks can easily combine millions of documents and billions of data points into what we call a Knowledge Map, which creates a heuristic path to rapidly:
inform gaps in research
find real-world evidence
uncover hidden connections
elucidate new hypotheses
explore interactions, causal relations and associations
Our platform has resources dedicated to cystic fibrosis that include CFTR variants, biofilms, and a wealth of important data for bacterial antimicrobial resistant strains such as Pseudomonas aeruginosa, Staphylococcus aureus and Escherichia Coli.
This method of interconnected discovery is akin to human thought processes, and enables the user to reshape the typical research paradigm in a way that allows for serendipitous discovery, more Eureka! moments, and, importantly, greater insight on targeted therapies.
Case Study
Researchers in the Stanton Lab at Dartmouth University's Geisel School of Medicine have been using the Epistemic AI knowledge discovery platform to help explore patterns in gene expression associated with P. aeruginosa biofilm formation. Chronic infection with P. aeruginosa is common for patients with cystic fibrosis, and is associated with a decline in lung function over time.
Sam Neff, a student researcher in the Stanton Lab, used the Epistemic AI knowledge maps to create a workflow for his research that combined published studies on P. aeruginosa biofilm formation with numerous data sources for P. aeruginosa, as well as information housed in biological repositories like the Gene Expression Omnibus (GEO).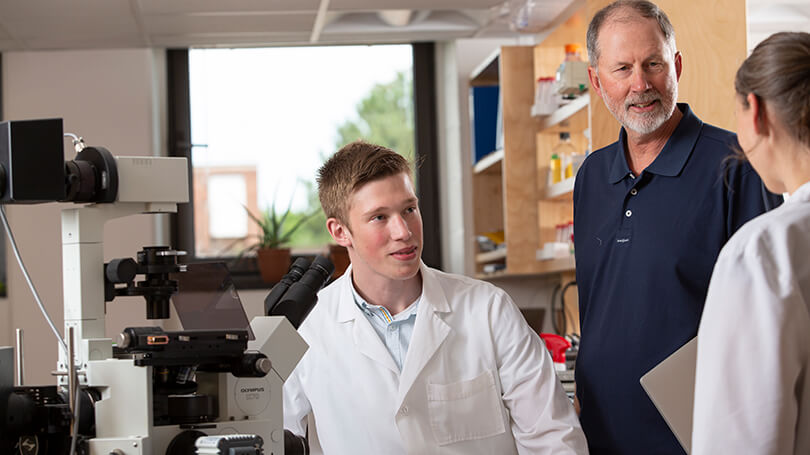 The Epistemic AI platform helped Sam to rapidly refine his research, with a dynamic search for relevant literature, clinical trials, and drugs that may be effective at treating chronic P. aeruginosa infections.
Epistemic AI works with other academic labs that have been using the platform for many areas of research in cystic fibrosis, including the search for pathways relative to rare mutations of CFTR, and genetic clues to the development of antimicrobial resistance.
Epistemic AI is also working with several biotech companies to identify druggable targets, optimize clinical trial data, analyze pre-clinical drug information, and interpret omics pathways.
Community driven
To achieve the future of biomedical research means continual innovation. We respond proactively to the needs of our customers and we work with them to create tools that they require.
We're also conscious of the needs of cystic fibrosis patients, and to this end we now host regular webinars with the Boomer Esiason Foundation to help patients understand current trends in cystic fibrosis research and how these will affect the future of treatment and disease management.